I Had Physical Therapy Yesterday and

Who Me, Stop Driving?
*
Well, I am walking on my ankle and using one of those walker contraptions. We're renting it as opposed to buying it because it is going as soon as possible.
I WILL WALK UNAIDED AGAIN!
They put me through all kinds of exercises yesterday, and I am to do the exercises two times a day, morning and early evening. I still can't drive because the range of motion is so poor, but I plan to be back to the old jalopy by the end of next week.
Ruth tells me that I shouldn't go back to driving because I'm getting too old, and my reflexes are slowing down.
"The last time you drove with me in the car, I was scared to death," she said.
Granted, I had gone through a red light. But, there were extenuating circumstances. We were driving through Ephrata, PA, a town I'm not familiar with. I had just seen a sign posting the speed limit (25 mph), and looked down to check my speed. I looked back up just in time to see the light turn from orange to red. I was already part way into the intersection and would have caused an accident had I stopped and backed up into the cars behind me. So, I kept going. And, (What luck!) a police car was parked on the other side of the street at the intersection. So, I just pulled over to my side of the street and waited for him to do a "U-ie" and park behind me. The ticket cost $128.00, and Ruth won't let me forget it. I swear she'd be happiest If I'd just stop trying to do anything and give up!
Go South, Old Man, Go South!
Pun! Pun! Pun!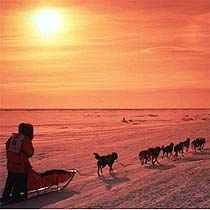 *2
Besides, after almost an entire month of the coldest arctic air masses on record I expect to look out my window and see dog sleds headed North on their way to Nome any day now. The Susquehanna River looks like an arctic ice flow. I know that people further North have it worse than we do. But, they too can move South, just as I would like to do.
* "Home Medical Equipment,"
MaxCare, Maximum Health For Life
, Acastadero, CA at "http://www.maxcareusa.com/equipment.html," (January 31, 2004, 9:45 A.M. EST)
*2 The photograph above was taken from Arctic Scenes: Barrow, Top of the World, "http://northsun37.tripod.com/arctic.htm" (January 31, 2004, 9:31 A.M. EST)
E-mail me! My e-mail address is ZacSfuts@aol.com.
Visit my homepage
AOL Hometown
Take a look at:
Betty Bower's Miracle Cards
for wonderful political commentary you can send to your friends. She plays the part to the fullest!=
Holty's blog
for great political comentary and much more from an Australian point of view.
Mark Harden's Artchive
. If you're not familiar with it, it's the best place to find excellent images of artist's works on the WWW.
Gay Artist's Galleries
Oku's Surotic Gallery
, an erotic art site.
Arts and Letters Daily
, ideas, criticism, and debate, a service of the Chronicle of Higher Education.
ArtsJournal.com
, the Daily Digest of Arts, Culture, & Ideas.