My Long Time Companion
Tillie Herr, my next-door neighbor has been sweet on Dan Thomas for two years. His apartment is at the end of our wing of PRICKLY NEEDLE MANOR, which means he has double corner windows in his living room that look out over the cornfields. Tillie learned to play bridge because "Danny Boy," my nickname for him, went to Bridge Club 2 times every week. She baked low fat, no sugar added cookies for him every week, and she drove him to his heart and eye specialist's appointments. She made herself practically indispensable. Finally, about 3 months ago,they became an item.
Tillie kept her apartment because she didn't want her evangelical family to think she was living in sin, but she moved in with Dan. Dan seemed to be happy, and he should have been. Tilly mucked out his apartment, and I do mean mucked it out. There were eighteen "Pizza House" Pizza boxes stacked in the hall outside Dan's door along with 4 bundles of Lancaster
New Era
newspapers, and 4 forty gallon bags of miscellaneous trash the day after Tillie moved in. Millie Dinkle said that Tillie scrubbed the floors two times to get all the dirt off. Of course, Millie has been known to exaggerate a bit. However, I know from talking to Dan that Tillie took damn good care of him those last 3 months. They were planning to have a party to celebrate their first quarter year together next week. Instead, we will all be going to Dan's funeral. It seems that Dan had his last heart attack last night while he and Tillie were making love. Tillie said that he died happy, and that the undertaker won't have to break any bones to fix his facial expression because he's smiling. I wonder though, will he lookhappy, or just silly?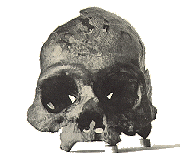 *
If this report seems a bit callous, I must apologize,but at my age, death is my consort. I talk to him daily, almost as often as I talk to God, and sometimes, when I speak with God, I'm actually talking about my long time companion, Death.
*"The Talk. Origins Archive," Exploring the Creation/Evolution Controversy,http://www.talkorigins.org/faqs/mom/calaveras.html, Last updated June 6,1996, visited December 4, 2004, 10:32 AM EST.
E-mail me at ZacSfuts@aol.com
Visit my homepage at
AOL Hometown