The Trip to Florida: Part III
I returned to the
Ringling estate
, and the Museum Wednesday morning. There are over 21 galleries in the museum, but I guess the most impressive is the collection of Rubens paintings, the largest in the United States. I also enjoyed the current exhibit titled " Surrealism to Modernism" that included works by Picasso, Dali', Mondrian, and others. However, even more impressive to me was the gallery housing Duchamp's
Boite en Valise
, 1941, and
Green Box
, 1934. Both of these collections of ancillary items, and miniature reproductions of
Fountain
and others of
Duchamp's art works
relate to and elaborate on
Bride Stripped Bare by her Suitors Even
. Thus, among other things, they are about human sexuality. In past entries I have written about the Duchamp connection through sexuality to my own work that has as oculus, male homosexuality. I include a list of some of those entries below.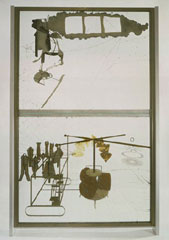 *

080303
080503
080704
081103
090403
091603
092303
092703
100103 (indirectly)
102403 ("Duchamp and Me")
102603
110103

There are more, but if you have read or skimmed through these, you have the idea.
*2
The Ringling Museum itself is a magnificent architectural work of art surrounded by royal palms banyan groves, and vast lawns. The classical Venetian building contains a sculpture garden that is located in a huge courtyard at the building's center. After spending 3 hours at the museum, I took the estate tram/bus to the Ca' d'zan because of the gift shop there and bought gifts for my friends back at THE BIG NEEDLE; Jim and Peter, Myrtle, Millie, and Tillie.
It had been a busy morning and I was exhausted. I'm healthy for my age, but at 85 I do tire so easily. I drove back to Siesta Key, and my apartment at Casa Mar. Once there, I fixed myself some soup and salad, took a nap, and then read some more of John Crossan's
In Search of Paul
.
Tomorrow I plan to visit Mote aquarium in the morning, and The Palms of Manasota, an all lesbian and gay male retirement community, in the afternoon.
Tsunami
What a horror! The death count is over 100,000 and counting. At least 500,000 injured, and perhaps as many as 3 million homeless. The magnitude of the disaster is beyond belief. I have decided that I will split my donation between the
American Friends Service Committee
, and
UNICEF
, since UNICEF will be directly concerned with care for the children orphaned by the giant waves. I explained in my last entry the reason for choosing "The Friends." The choice was primarily because the Quakers represent the best of Christian virtues and values as opposed to the evangelicals representing the worst of Christian Values. In fact, I think I will devote a future entry to a comparison of all aspects for the two religious groups.
* "Bride Stripped Bare..." Marcel Duchamp Word community, "http://www.marcelduchamp.net/bride.htm" ©2003 Succession Marcel Duchamp, ARS, N>Y>/ADAGP, Paris. Viewed Saturday, Januray 1, 1005
*2 For more of my photographs of the Ringling Estate and museums go to "Flickr: Photos from ZacSfuts @ http://www.flickr.com/photos/41639447@N00/?saved=1
E-mail me at ZacSfuts@aol.com
Visit my homepage at
AOL Hometown
.